| | |
| --- | --- |
| | |
| Category: | |
| Price per night: | To |
| Star rating: | |
| Disabled facilities: | |
| Off-street parking: | |
| Wi-Fi in rooms: | |
| Dogs welcome: | |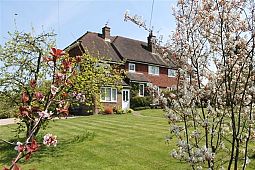 5 Star Gold & Good Breakfast Award from Visit England & Quality in Tourism. "Clouds" is a former Hop Farm worker's cottage with panoramic views over Bodiam Castle & the Rother Valley. It situated in an elevated, tranquil, rural location in The Sussex High Weald designated Area of Natural Outstandi...
Read more

Website

Send email

01580830677
Find more accommodation here

Nearby towns
Nearby villages
Baker's Cross
Camden Hill
Cranbrooke Common
Crit Hall
Flishinghurst
Four Wents
Glassenbury
Golford
Hartley
Iden Green
Sissinghurst
Tubslake
Wilsley Green
Wilsley Pound
Information for visitors to Cranbrook seeking B&B, hotel or self-catering cottage accommodation; and for accommodation-providers new to this site:
If you seek accommodation near Cranbrook in Kent you have come to the website of a "club" of providers who offer affordable quality accommodation around UK in hotels, bed and breakfasts, guesthouses, inns, and restaurants plus self-catering cottages and apartments .
Click the tab above marked "accommodation", browse the adverts, check availability, click read more to view the establishment's brochure page and book up by phone, email or online as offered.
You'll find advertised:
Cranbrook B&Bs
Cranbrook guest houses
Cranbrook vacation rentals accommodation
Cranbrook accommodation
Cranbrook self catering
Cranbrook hotels
Cranbrook cottages
Cranbrook lodges
Cranbrook cheap bed breakfast
Cranbrook best hotel deals
Cranbrook cottage holidays
Cranbrook inn
If you are an accommodation-provider you could be advertising your property for free on this page whilst at the same time enjoying considerable other benefits described here: http://www.bedposts.org.uk/