| | |
| --- | --- |
| | |
| Category: | |
| Price per night: | To |
| Star rating: | |
| Disabled facilities: | |
| Off-street parking: | |
| Wi-Fi in rooms: | |
| Dogs welcome: | |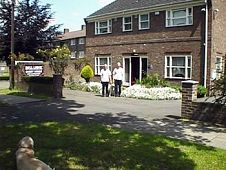 We offer good value B&B accommodation. Located in a quiet, tree-lined side-street, a short walk from York\'s old centre with free private car parking and secure garaging for cycles and motorbikes. We\'re close to the Barbican Centre, York University, Business Science Park and the Borthwick Institute...
Read more

Website

Send email

01904 415522
Find more accommodation here

Visit York North Yorkshire and the surrounding villages and stay in B&B, hotel or self-catering accommodation provided by BedPosts members.
The city of York in North Yorkshire has had a long and varied history since it was founded in 71 AD by the Romans. A good way to see the city is to walk around the medieval walls that surround it. It currently has a population of approximately 200,000. Historical sites include York Castle and York Minster.
Read about the local attractions you will want to visit during your stay in York bed & breakfast or hotel accommodation.
York Minster www.yorkminster.org
Yorvik Viking Centre www.vikingjorvik.com
York Castle Museum www.yorkcastlemuseum.org.uk
National Railway Museum www.nmsi.ac.uk/nrm
Treasuerer's House www.nationaltrust.org.uk/main/w-treasurershouseyork
Fairfax House www.fairfaxhouse.co.uk
Yorkshire Museum www.yorkshiremuseum.org.uk
York Dungeon www.the-dungeons.co.uk/york/en
Barley Hall www.barleyhall.org.uk
Bar Convent www.bar-convent.org.uk
In York, outside actvities can include walking the old city walls, taking a free guided walking tour of the city during the day or one of the many ghost walks in the evening, then if the feet need a rest there are river trips day and evening on the Ouse.
As a centre for a longer holiday, we can offer ............
Go East... Experience the North Yorkshire coastline, the scenic fishing ports of Whitby and Staithes, the traditional seaside resorts of Scarborough and Bridlington (don't forget the great British fresh fish and chips!). Within easy access by car are the splendid stately home of Castle Howard, location of TV's Brideshead Revisited, Eden Camp (former POW camp), Yorkshire Air Museum" Flamingoland Park and Zoo, and the pretty town of Beverley with its own ancient Minister. Go North... Enter a different world as you emerge from the Vale of York onto the sprawling and magnificent North Yorkshire Moors - the home of TV's Heartbeat set in `Aidensfield' (Goathland) and James Herriot's All Creatures Great and Small - and no trip would be complete without a ride on the North Yorkshire Moors Railway and a visit to the ancient remains of Rievaulx Abbey. After a surfeit of nature and history visit Lightwater Valley theme park for a perfect contrast.
Go West... Less than an hour's drive is the conference and spa town of Harrogate with beautiful floral gardens. Beyond lies the old market town of Skipton on the edge of the beautiful Yorkshire Dales, home of the Bronte family at Haworth. Visit Holmfirth to the south to enjoy TV's Last of the Summer Wine countryside.
Information for visitors to York seeking B&B, hotel or self-catering cottage accommodation; and for accommodation-providers new to this site:
If you seek accommodation near York in North Yorkshire you have come to the website of a "club" of providers who offer affordable quality accommodation around UK in hotels, bed and breakfasts, guesthouses, inns, and restaurants plus self-catering cottages and apartments .
Click the tab above marked "accommodation", browse the adverts, check availability, click read more to view the establishment's brochure page and book up by phone, email or online as offered.
You'll find advertised:
York bed & breakfasts
York guest houses
York holiday cottages accommodation
York accommodation
York self catering
York hotels
York cottages
York lodges
York cheap bed and breakfast
York luxury hotels
York luxury cottages
York country inns
If you are an accommodation-provider you could be advertising your property for free on this page whilst at the same time enjoying considerable other benefits described here: http://www.bedposts.org.uk/